"Yesterday's Dreams Are Today's Necessities.
Today's Dreams Are Tomorrow's Opportunities." (Lou Tice)
Welcome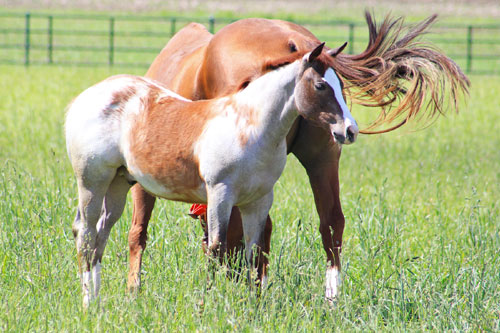 Welcome to Montana Ranch Cutting Horses. We are located in Northwest Montana and are just a short drive away from the Canadian Border, Glacier National Park, Flathead Lake, etc. The Ranch is nestled in the Flathead Valley, surrounded by the Rocky Mountains as our backdrop, with several fresh water lakes and rivers on all four sides of us. When you visit us you will see why it's called God's Country.
HISTORY
We are proud to be starting the second chapter of Montana Ranch Cutting Horses. We started in 2000 by purchasing some of the top genetically bred (mostly fillies) two year olds. They were trained, shown throughout their aged event career, and then developed into brood mares. Currently we have 6 of the finest brood mares you will find anywhere. By being a small yet elite operation, we have more quality time working with each individual animal. Because we feel it's important for their growth, all of our mares and foals are turned out on grass (six-five acre paddocks with shelter), instead of being confined to a stall. This provides them with the much needed interaction with other horses and will enhance their development.
BROOD MARES
Each one of our brood mares has had a successful show career as well. It's extremely important to us that the mare is an individual first, then a producer. We have trained and shown each brood mare ourselves and we know each horses' qualities/type, temperament, athletic ability, etc. We also have been riding and showing their offspring, and they in turn are showing the same qualities as the mare. We thrive on consistency so all the offspring are started and trained here by Randy. He utilizes the same proven program on every horse and takes them through halter breaking, groundwork, first ride, cow work, their first show, etc.
BREEDING
We breed our mares with some of the leading Sires in the Cutting Horse Industry. These include "Dual Rey", "One Time Pepto", "High Brow Cat", "Highbrow CD", "Metallic Cat", "Smooth As A Cat", "Dual R Smokin", "Kit Kat Sugar", 'Lil Catbaloo", "One Time Royalty", "Woody Be Tuff" and more. These stallions are all paid into the NCHA incentives so all our foals are eligible for the largest shows. As we all know, high quality breeding is extremely important and matching the mares to the right stallion is the first step.
FEED/AGRICULTURE
We are blessed to be able to feed high quality alfalfa/grass hay also raised by the Montana Ranch team. In our opinion you won't find a finer product anywhere. By having a chemical/additive free hay source, it allows us to feed steam rolled oats instead of potentially endangering the animals with higher powered feed and grain.
CONCLUSION
If you see something you're interested in feel free to call and/or email us, or better yet stop by the Ranch. We are definitely willing and proud to show you our little piece of Heaven. It has always been David and Sandy Sabey's dream to raise the best genetically bred animals. Whether that's Cutting Horses or Registered Angus, or the Agriculture part of Montana Ranch Team, we strive for and demand excellence in all we do.
PASSION. PERFORMANCE. PROVEN.
"Don't Wait For The Perfect Moment - Take The Moment And Make It Perfect."
(Author Unknown)
---
David and Sandra Sabey
Trainer-Randy and Susan Holman
406-270-2767 Randy - 406-250-2417 Susan
301 Echo Lake Road Bigfork, Montana 59911
Email Us